We were so excited to have the chance to talk to someone we have long admired in the quilting industry…Pat Sloan! Not only does she design her own patterns and fabric, but she is also the host of the American Patchwork & Quilting Radio Show! She was so fun to talk to. You can subscribe to her weekly show on iTunes or listen to recordings over at All People Quilt (another fantastic website!) Pat has new interviews every Monday afternoon!
Click here to listen in. We are interviewed during the second half of the show, following Gerri Robinson of Planted Seed Designs.
Don't forget to check out Better Homes & Gardens' series of quilting magazines: American Patchwork & Quilting, Quilts and More, and Quilt Sampler. They are full of inspiration, patterns, interviews, and more. You will love them!
Have a wonderful week everyone!
-Kim & Kris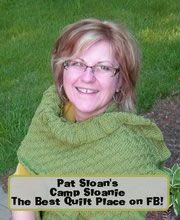 Follow Pat at Facebook!
Follow Pat on Twitter!
Simply…follow Pat! (You'll love her!)