We think photographs make some of the very best gifts you could give. Here are a few ideas!
1. In about 2 minutes, we turned a small photo into a necklace! We found these metal frames in the jewelry section of a craft store. We added a photo to one side and scrapbook paper to the other side. Simply "sandwhich" the photo/scrapbook paper between the 2 glass squares that come with the metal frame kit and you're done! Talk about easy!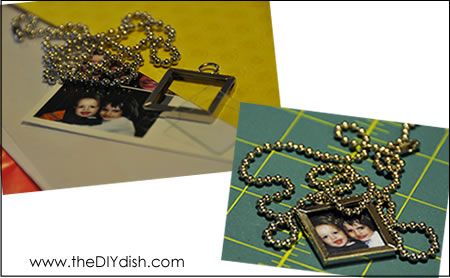 2.  Last year we made this keepsake photo block using a glass craft block we purchased at a craft store.  You can also use the glass blocks carried in home improvement stores!  We measured the glass block.  Then we took that measurement and decreased it by 1″ on all sides and cut our photo to be that new size.  We placed the photo onto a sticky black vinyl square (same size as block) and adhered it to the back of the block.  We added the date the couple were married, as well as "you and me" cut from vinyl.  Easy!
3.  This next idea comes from one of our episodes from our first season!  Using a photograph, Mod Podge, and 1 and 2″ tile squares (yes, again from that home improvement store!) we made the "photos that pop".  These can also be turned into fantastic jewelry.  If you missed that DIY Dish episode, you can view it here.
 4.  Another episode last season had us creating mixed media photo collages!  These are photos that have been transferred directly onto the canvas itself with Liquitex Gloss Medium. Very cool.  If you missed that episode, you can watch it here.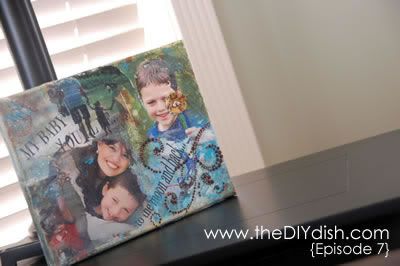 5.  And finally, here's one that has endless possibilities! Create a collage with photos, scrapbook paper, and even burlap! We took the free download "love" design from Episode 9 this season, and added it to this framed collage. I can't wait to give it to my daughter for Christmas!