It's that time of year when many of us may be thinking:
"I really need to lose 10 lbs…"
"I want to spend more time with my family…"
"I want to find more balance in my life…"
"I need to stop eating chocolate-covered cinnamon bears…" (ok, maybe not that drastic) LOL
Sound familiar?
Yes, it's the good ol' "New Year's Resolutions." 
But this year, I'm just going to add more to my plate (not the dinner plate…) but the idea that I want to do "more of this…and less of that" kind of idea. Maybe something like this:
"I'll play more with my kids…and work less."
"I'll read more…and watch less."
"I'll eat more (whole foods)…and eat less (processed foods)"
"I'll run more…and sit less."
"I'll enjoy life more…and worry less."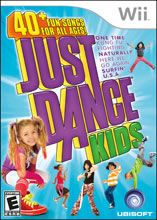 You know, that kind of thing.  Nothing too drastic. Nothing over-the-top-and-be-done-with-it-2-weeks-later, kind of thing.  Which all leads me to this week's sponsored giveaway from Gamestop. 
This week's theme with Gamestop is "Family Time" and a DIY Dish viewer is going to win a bundle of any 3 games of their choice from this list:  – Hasbro Family Game Night 3, Just Dance Kids, Kinectimals, Donkey Kong Country,  Little Big Planet 2, Kirby's Epic Yarn, Super Mario Glaxy 2, uDraw, Wii Party, or Eye Pet. Our family has played the "Just Dance" game and it was a total blast! We laughed so much and really got a fun workout from it too!
You have 2 ways to enter!
1. Visit GameStop's "Play Your Way" website and tell us a game you think your family would enjoy playing together. Come back to The DIY Dish blog and let us know what it is.
2. Leave a comment here and let us know one of your "New Year's Resolutions".
This contest is open to a world-wide audience, 18 years and older. Void where prohibited. Entries will be accepted from 1/20/11 and close on 1/25/11. A winner will be chosen by random drawing and announced on the blog on 1/26/11.
Have a wonderful week!
-Kim and Kris
P.S. Don't forget to catch this week's episode of The DIY Dish — it's a Valentine project you can put together in a day!