About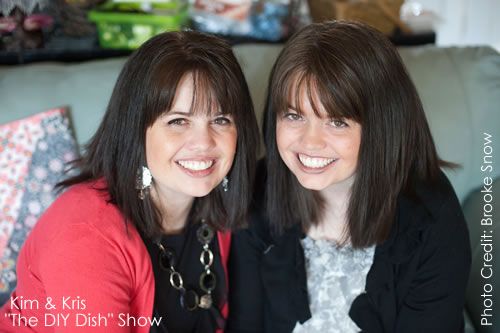 The DIY Dish is a weekly show which features fabric-related projects for home decor, accessories, quilts, embroidery, and more.
The show is hosted by identical twin sisters, Kim Christopherson and Kris Thurgood. As mothers , former elementary school teachers (they even taught in the same 4th grade classroom!), and creators of such DIY websites as YouCanMakeThis.com and SWAKembroidery.com, they love to create and show others how they can do it, too!
Kim and Kris have been featured on national television shows including The Rachael Ray Show and The Nate Berkus Show. You'll find them in magazines, such as "Where Women Create,"  "Designs in Machine Embroidery, and a regular column in "Where Women Cook" magazine. They are also monthly contributors to the local NBC affiliate lifestyle television show, Studio 5. In 2011, they were named one of the top 40 (#6 & #7!) Women Entrepreneurs by LaunchHer.
Now entering its 4th season, The DIY Dish will be filmed on location at "My Girlfriend's Quilt Shoppe." The DIY Dish Web Show brings you the latest and greatest projects, reviews, and how-to's with everything DIY!  Here's a look at some short highlights from our past episodes!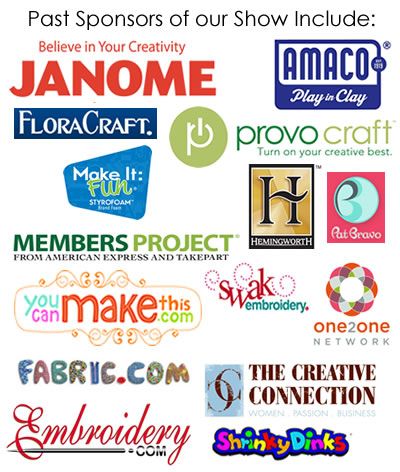 =====================================
Here's what viewers of The DIY Dish are saying!
The DIY Dish is a feel good type of show. These two girls always leave you smiling. Their step by step directions make everything so easy. Somehow they know exactly what I want or need to make that season. I wouldn't miss it!
Amy Bohner, Lansdale, PA
==========================
"Each new episode has me running off to gather supplies and get to crafting! So inspiring!  Kim and Kris put their all into these videos and it shows!  All their ideas, all their time and all their plans–and they take the time to share it with me! and you! for FREE!"
Kelly O., Ontario, Canada
==========================
 I think the most positive experience with The DIY Dish are the great ideas you present that inspire your watchers to expand their skills and develope new ideas of their own.
Janet Kynerd, Memphis, TN.
==========================
Love the DIY Dish. It is fun, entertaining, and informative, I always learn something new, be it a new web site, or a new way of doing a craft, or discovering a new product.
Agnes Gates, Warsaw, NY
==========================
I was introduced to the DIY Dish from a fellow seamstress who raved about the show and boy am I grateful she did. I fell in love immediately with the ladies who really MAKE the show what it is. The projects stretch your creative immagination and get your brain thinking of new ways to design. I look forward to watching the show every week and only wished I had the time to do every project with the girls of DIY Dish. Bravo Ladies!!!!
Katherine, Orlando, FL
==========================
I watched the DIY episode that taught how to cover a lampshade. I did it right after the show and my lampshade turned out as cute as the one on the show. I gave the lamp with gorgeous new shade to my disabled sister and she was so happy with it! Everything on DIY is so easy to do and learn. It's my fav show!
Sherri Pickett, Mabank, Texas
==========================
Because of this wonderful show, and it's most creative hosts, I was able to make my Sister's 60th birthday a memorable one. These women truly know how to spark enthusiasm in their audience! I haven't missed an episode, nor will I!
Judy Chaffee, Naperville, IL
==========================
I've found all projects on the show to be creative and all instructions are explained thoroughly. I love being able to have the options of where to buy the products shown or use my own creativity to embellish the projects. You couldn't have found better hosts; they are delightful and share their talents with great enthusiasm and vigor. I've missed all the craft shows that used to fill my weekends, but I find this show fills the void very nicely. Thank you for all you have done for fellow crafters.
Sheila Amiot, Houston, TX
==========================
Besides being super creative, you two know how to inspire others. After watching one of your shows, I'm excited to try something new that I learned from you.
==========================
I have enjoyed learning new things by watching the DIY Dish. The format is fun and refreshing.
Sheryl, Ohio
==========================
I love watching the DIY DISH and enjoy seeing the different types of crafts featured each week. I love that I can replay them as many times as I'd like. Keep up the good work.
Deby Sanger, Hickman, KY
==========================
I enjoy watching the 2 sisters interact with the show. They are both creative, witty and funny. I love that they are mommies who include their children with their crafts. Overall it is a nice escape for me to enjoy and see bits and pieces of the "creative world."
==========================
I love the DIY Dish!!! I am 15 years old and I love to craft/sew! There is always something new on the DIY Dish! It's for all levels of experience! I look forward to every episode, knowing there will be a very detailed explanation of a neat, fun craft!
Taylor C., Purlear, NC
==========================
The Dish girls are just the cutest! Love that they are REAL…and create REAL crafts that REAL people can do!  Thanks for the inspiration!
Karin, Dawsonville, GA
==========================
I enjoy the girls sweet giggly spirits and how they bring back things their elders had taught them and make them new again for this generatio