Welcome to another week of The DIY Dish! This week we are demonstrating how to make "My Girlfriend's Breakfast Club Apron!"  We'll also show a very cool way for gathering fabric (no more pulling bobbin threads for this one! You'll love it!)
This apron created for a special event being held at Kris' quilt shop. And over the next year, we will have a regular column in the magazine, Where Women Cook, that features not only DIY projects, but breakfast recipes, too! So it was only fitting to start with an apron as our first project! Here are some more photos!
These would make easy gifts to give to friends and family! A basket filled with a muffin or cookie pan, mix, and an apron would be super cute, don't you think?
If you're interested in a complete kit to make this apron, you can find them on sale for the next 2 days — Monday and Tuesday, October 17-18, 2011 at www.MyGirlfriendsQuiltShoppe.com! There are a ton of fabric combination kits to choose from!
The kit will not only have the fabrics, but also the "extras" that you'll need to complete it: the decorative button, snap, bias tape, and even that "waffle cloth!"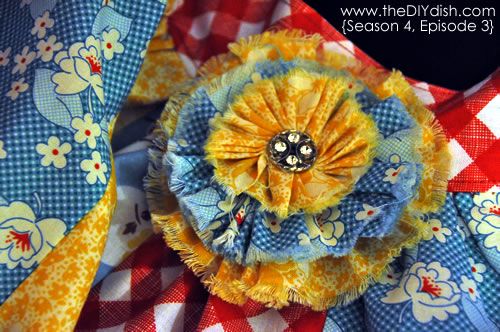 Have a wonderful week everyone!
-Kim & Kris
P.S. Downloadable instructions can be found here.
Apron kits at a special 2-day price can be found here.