Welcome to a new episode of The DIY Dish! Whether you love paper crafting, scrapbooking, sewing, or quilting, you'll want to watch this week's episode! We created some projects in honor of our grandmother and her wonderful group of quilt friends that welcomed her into their circle of friendship. In an effort to combine the beautiful papers and coordinating fabrics that this week's sponsor, AdornIt, has designed, we are making a memory album, as well as a pin cushion. Take a look…
As many of you know, our grandmother recently passed away. We wanted to do something special to remember her group of friends who were so kind and welcoming to her during her last few years.  Our grandma had not sewn for years, but these sweet ladies invited her into their "quilt group." They'd get together for hours (even days!) and quilt, eat, share stories, and more. And although she didn't "quilt" with them, she was right there along their side as the "official presser" of the seams.
She always got such a chuckle out of that. More importantly, they made her feel loved and appreciated.  Here are some more photos from the album we created using products from AdornIt. Thank you Susan for sending us these photos of your quilt group so that we could include them in this book.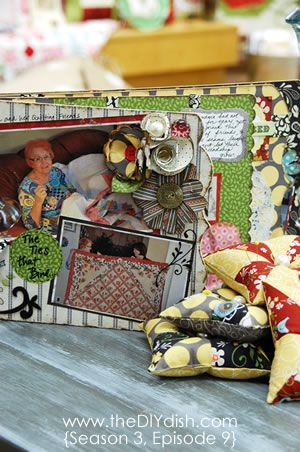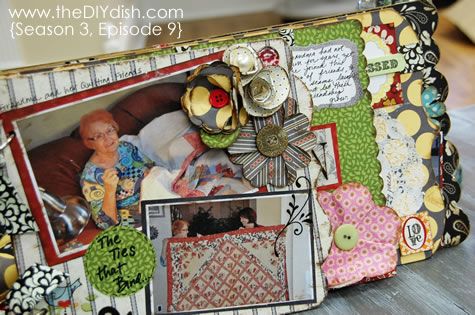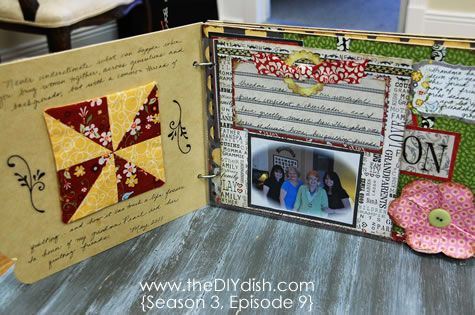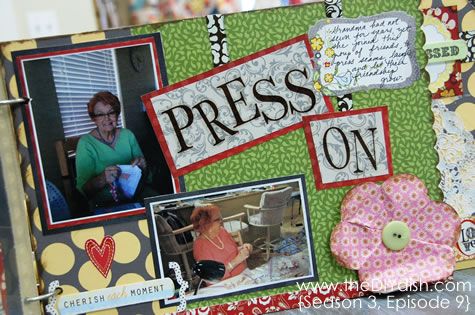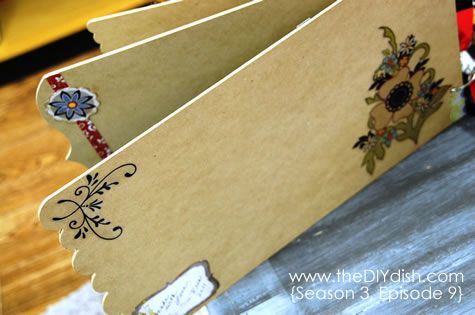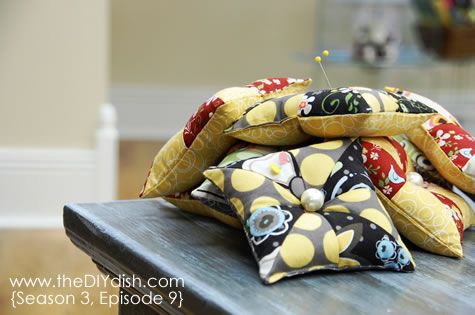 AdornIt also put together kits using the items in this episode. If you are interested in a pin cushion fabric kit (does not include pearl center) or a wooden book kit and papers, they'd be happy to help you!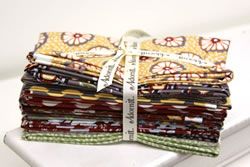 And…it's another giveaway this week! You could win one of five "AdornIt" prizes!
3 Vintage Groove Fat Quarter Stacks ($39.00 dollar value)
1Vintage Groove Wood Story Book ($14.00 dollar value)
1- 1lb Bag of ADORNit fabric scraps! ( No scrap smaller than 4″x4″) ($39.00 dollar value)
 This giveaway is open to U.S. residents, 18 years and older. Void where prohibited. Last day to enter is this Friday, June 3, 2011. As a reminder, winners of our other recent giveaways are posted on our blog and your prizes will be sent out shortly.
TO ENTER:
1) Let us know how you shared the episode with your online or offline friends.
2)  Post a comment here on DIY Dish telling us what your favorite crafting memory is! 
Have a wonderful week!
-Kim & Kris