We just finished up "Spring Break" with our families. Since many of you will be going on Spring Break soon…and Summer is just around the corner, we thought it would be fun to have an episode dedicated to the kids!  Learn how to make this easy garden apron — it's a great sewing project for the beginner — and it comes from our DVD: The DIY Dish Summer Crafts for Kids.  So go ahead and gather the kiddos around…they may want to start sewing this week!
The DVD is divided into four fun weeks of summertime crafting activities.  Each week is based around a theme with something fun to do every day! (Of course, you could always spread out the project throughout the summer, too!)  The DVD also comes with a companion guide in PDF format that includes step-by-step instructions for the adult to read while watching the videos.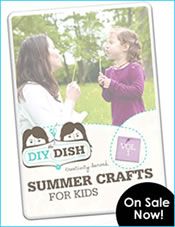 If you need to entertain older and younger kids, no worries!  Many of the projects include an easier version for the little kids and a more challenging version for the big kids. Your children will love learning new skills and the confidence gained through creating. You'll love that you only need inexpensive materials or things you likely already have around the house.
The projects included on the DVD are great for parents and kids, grandparents and grandchildren, summer camps, scout troops, family reunions, and both boys and girls!  They'll be excited and proud to say "I made it with my Mom!" (or grandma, troop leader, etc.)!

The Summer Crafts for Kids DVD features:
In the Garden:
Wooden Spoon Garden Markers, Watermelon Maracas, Placemat Garden Aprons, Tin Can Planters, and Edible Worms
Gone Camping:
Camping Bandana Pillows, S'Mores Stick Puppets, Explorer Boxes, Nature Notecards & Bookmarks, and Nature Jewelry
Cookies In The Kitchen
Dishtowel Aprons, Decorate Your Dishtowel Aprons, The "Cookie Concoction Contest", Cookie Containers, and The Cookie Cookbook
Love Your Country
Handprint Flags, Firework Crafts, Salad Spinner and Straw Fireworks, Soft Candy Holders, and Dress Up Flip Flops
The projects are not intended for children under 3, and are best for ages 3-12. And for a limited time, the DVD is on sale for $10. We also have a limited quantity so this price is for the DVD while supplies last. Payment by Paypal or Credit card is accepted. We are currently shipping to the US and Canada. Click here for more information.


We also had a great response last year when we introduced the idea of creating a "grandma camp" where grandmas and their grandchildren would do these projects together.  If you're interested in this idea, be sure to download these free bonus pages here. It will include a "s'mores invite" and other items that will make your summer special.
We can't wait to see the garden aprons your children will make! Be sure to post on our Flickr or Facebook pages!
What kinds of fun things do you like to do with your children? Let us know by making a comment below.
Have a wonderful week!
-Kim and Kris