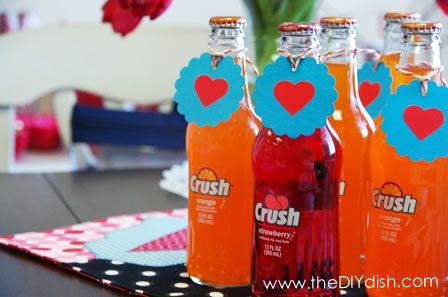 By now you may know that we love to get together with friends and quilt each month. Our "quilt group" consists of 12 of us ranging from a mom of young children (probably 24 years old, right Karlee?)
to other women who are now grandmothers. Although we may be in different stages in life, we all come together each month to have lunch, quilt, and of course, laugh…a lot. 
This month was "the twins" turn to host. And who wouldn't love to create a Valentine theme for the luncheon, right? So we brought out the placemats created in Episode 10, decorated with the Valentine hearts made in Episode 11, ordered take-out (who has time to cook!?!), and we had a party. Some quilted. Others crafted. Everybody needs this "me time" or rather, "we time".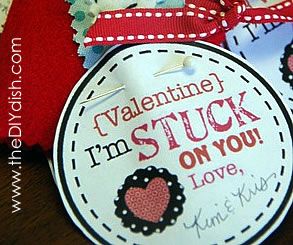 We also made a little gift for each of our friends and thought we'd share the download with you, too.  We know that a lot of viewers have made the Double-Layer Cake Pin Cushion from our 1st Season.  Many more have made the Owl Pin Cushion from Season 2.  So here's a download that you can cut-out and attach to your pin cushions if you happen to give it to them this Valentine's Day.  If you think it's too late to make them, try the cake one — it is super quick and easy.  Or simply buy a package of straight pins, needles, etc. and attach the Valentine note. Who doesn't need extra pins for their projects, right?
Click here for the free Valentine Gift Tag download.
So Happy Valentine's Day friends. We are very grateful for each of you viewers.  We hope you have a wonderful day.
-Kim & Kris
PS – Come back tonight as we'll be posting the 10 winners of the Mimi Totes and Gift Packages from ThermoWeb!
PPS  – We want to come and craft with you, too! Don't forget to enter our "Craft Night" contest for YOU and 10 of your friends!!! Watch the video below and find all the details here.