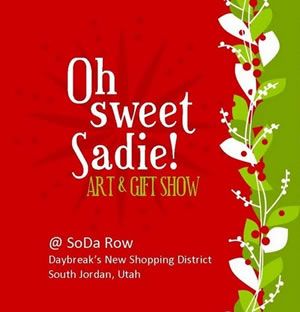 One of the things we love about this time of year are all of the craft shows that are going on.  If you're in Utah, you MUST MUST MUST (see how much we love it!?) check out the Oh Sweet Sadie Art & Gift Show.  You have one more day to attend this amazing event as it ends Saturday, November 13th. 
Kris and I attended this yesterday after Studio 5 and we were in craft heaven.  The vendors are spectacular.  We were in awe of their creations and definitely had a fun little spending spree. Because not only do we love to make items ourselves, we also LOVE to support handmade. 
Now if you think this gift show is awesome in itself, wait till you hear this.  The creators of the event, Dani and Heidi, have also created the Oh Sweet Sadie ACADEMY for those who want to learn how to make all kinds of items — everything from handmade dolls and chocolates, to jewelry and home decor.  27 classes are available and it is not too late to register! Grab your girlfriends and have a FUN and inspiring weekend.  We only wish we had more time there. 
 On our 2 hour drive back, we snacked on a homemade cashew log (tell the sweet lady that you'd love a sample!) while admiring our new jewelry and other gifts we found for our loved ones.  The artists who sell their creations there are simply awesome. 
Have a wonderful weekend everyone!
–Kim & Kris