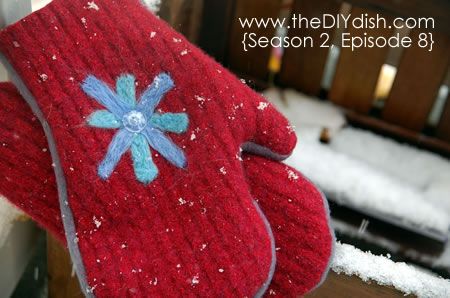 Episode 8 of The DIY Dish was one of our 2 minute Craft Countdowns — we turned a felted wool sweater into mittens! In conjunction with that episode, we had a giveaway for four, $25 gift certificates to www.YouCanMakeThis.com. So congratulations to…
1. Amy (partial email: forever-su…)
2. Elena (partial email: edeloo…)
3. Laurie (partial email: lauriek@….)
4. Andrea S. (partial email: andreasau…)
We will be in touch with you regarding your gift certificates. Have fun shopping!
Now for our "2nd Helping" following Episode 9 this week! We thought we would highlight some of YOUR tips and ideas for making these envelope pillows and creating stencils. This is just a partial list of the amazing feedback people sent in through posting a comment on the blog! We love your comments! To see even more ideas, simply click on "post a comment" found at the Episode 9 blog post and you'll find them all.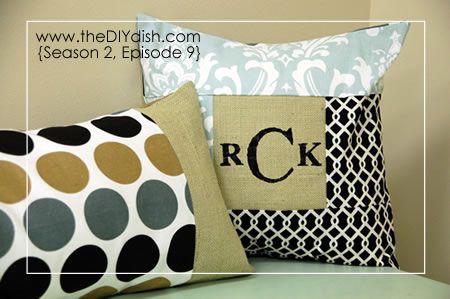 Magen likes to create her stencils with a Cricut Machine. (So if you have one of these or another electronic dicut machine, give it a whirl!)
Charlotte suggest that if you give someone a pillow as a gift, record the size and the type of cover so you can make new covers for the existing pillow form without duplicating.
Amy was thinking of making pillows for the neighborhood kids. Kids always like things personalized with their names. She continued, "I print out my stencils from different fonts on the computer. I can change the size and font stlye as I wish. I cut the freezer paper to fit through the printer before I use a craft knife to cut out the letters. "
Juanita said, "I would like to expand a little on it and suggest that if someone wanted to make a set to give as a gift or for personal use, a bag of some type to keep them in would also be nice. Words or initials could even be stenciled on it. What comes to mind is a cylinder pouch with a drawstring on one end. To keep the covers from having wrinkles or fold lines, they could be rolled together and slipped into the pouch. Even simply sewing velcro (hook and loop tape) to the open end would work well. Another idea would be to make a cover for the covers – a slightly larger envelope cover that all the extras could be slipped into to lie flat and keep them clean and wrinkle free.
—–
Aren't these ideas fantastic! Thank you for contributing! Your comments always make any project better!
We also wanted to answer a question sent in from Line. She asked,  "Is there any particular reason for choosing duck cloth or burlap to stencil on? Is it more difficult, for instance, on other types of fabric?"
We actually just like the look of burlap and duck cloth. Both are thicker fabric and we especially love the unique texture of burlap.  We love the look of paint on burlap.  But we have also stenciled onto such fabric as 100% cotton and had success.  This time it was just a matter of personal preference.  Thanks for asking Line!
————————————-
If you are celebrating Thanksgiving this next week, we wish you a very happy one.  We are thankful to be able to do what we do and appreciate your support.  Don't forget to post YOUR photos of stenciled pillows you've been making – including the "love" one in the download. We can't wait to see what you are making!
Have a nice weekend,
Kim & Kris