We are so excited for our 2nd season of "The DIY Dish!"  Thank you for your feedback, kind words, and encouragement in this "journey" – we sincerely appreciate it! 
This episode has Kris as the "instructor" and Kim creates the project while anticipating what your questions might be.  We'll also be sure to bring you an accompanying download with the "main episode" projects that include a materials list and helpful tips or hints. Make this owl into a pin cushion, paper craft, or even a pillow!
We encourage you to visit our fantastic sponsors this season by clicking on their ads found on the right side-bar.  They are the ones that make this program possible and keeps it free for everyone to enjoy.  We would also LOVE if you'd let your friends know about "The DIY Dish!"  Spread the fun and enjoy creating "together!"
We want to thank our first sponsor this season, Janome, for allowing us to give away TWO amazing machines! Details on how you can enter to win are found below.  We are also giving away two, $100 gift certificates to YouCanMakeThis.com and SWAKembroidery.com. YEA!!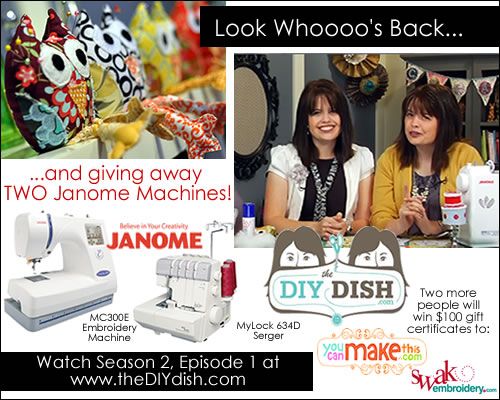 Visit this week's sponsor here:  www.Janome.com
Download this week's accompanying PDF here: Owl Pin Cushion Pattern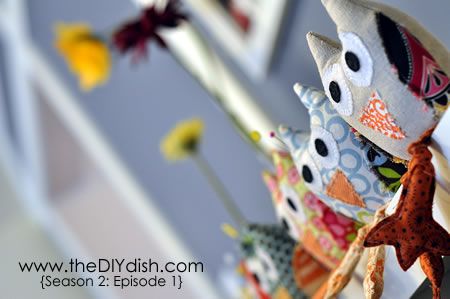 Now, let's talk about that giveaway!  You could win a Janome 300E Embroidery Machine or a Janome MyLock 640D Serger.  Two more people will win a $100 Gift Certificate to YouCanMakeThis.com or a $100 Gift Certificate to SWAKembroidery.com. 
There are so many ways to enter. Each item below will have your name placed into the drawing. Be sure to post a comment below this blog post and let us know. Official rules are found here.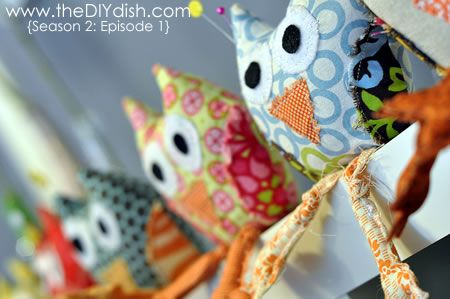 1. Sign up for our FREE newsletter! (enter email in blue tab at top of page) You'll never miss an episode! If you're already a newsletter subscriber, then you've already gotten an entry!
2. Make a comment below. We'd love to hear from you!
3. "Tweet" (see the Tweet button located at the top of this post) about this giveaway or email/call your friends!
4. Grab our blog button! Find the code at the bottom of our home page.
5. Embed the video above into your blog. (The embed link is found by clicking on the right corner of the video screen.)
Come back this week for our "2nd helping" follow-up post! Have a wonderful week!
-Kim and Kris
Looking for walnut litter or wonder tape? Check out these links at Amazon!