One Week From Today…
September 7th, 2010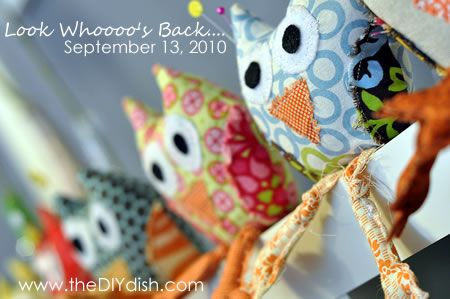 Oh, wow. I can't wait. Thanks for the teaser!! Those are just too cute.




Hope we will be getting a pattern for the owls.




Exicted that the show is starting next week!




Gotta love owls! so cute!




so cute I can't hardly stand it!




VERY EXCITING!! I wish I were still involved in the production:) I'll miss that!




CANNOT wait:)




OMGosh! I've been wanting to make these for my little girls room!!! Those are so cute!




Love your fun projects.




Those owls are very cute!




These are adorable! I can't wait for the new season to begin you so much fun to watch!




These are adorable. I can't wait.




These made me smile.




Well OWL be darned! What a HOOT!




I can't wait!! You guys help keep my creative juices flowing.




Tomorrow…:-D




Very cute Owl- thanks




Loved the owls, I made Cupcakes last year for my friends, this year it will be owls, Congrats on Season 2,




these owls are so cute I cant wait to make one.




My sister-in-law collects all kinds of owls–this will be a great gift for her!!!




I absolutely love your show and so glad that you are back….been a long summer without ya…lol. Those owls are just darling….would make great little presents for people…thank you so much and Welcome Back~

Kim




Yahoo!! Was so glad the season started! I really enjoy your projects and have some fun plans from great projects last season! Go team!!




I grabbed your button, and leaving this comment!! This owl is SO cute!! Can't wait to see what this season brings!!




i loved the owl, we have a craft class and we donate all the things we make forour church. the owl will be one of the things we will make. thanks, i thing your program is very informative




Cute owl!!!! I'm so glad you're back, we've missed all those wonderful projects. Thanks for sharing!




So glad to see u back. Have missed the program. Thank goodness, it's goodto sse you. Can't wait to make an owl pincushion, so cute.
Paula




Love your Videos and the owl regards kay from down under




Thanks for sharing this adorable hoot of an owl! Glad you are back with season 2!




Hi girls!

Congrats on your second season. It seems that we all were missing your episodes of pure creativity!

Love,

Pat




It is good to have you back! You guys are my little escape to creativity in my crazy life. I love the owl…I also love the embroidery machine.
Can't wait to see your next episode.
xo
Marisa




The owl pincushion is great and so easy to make! Thank you for this project. I can think of a million ideas to use the template.




I love this show! I watch / listen to this at work, and it makes my day so much better! I work in a windowless office with one boss, and it's very quiet here. Thanks for your enthusiasm and crafting ideas!




The little owl will make wonderful Christmas gifts for my Sewing Group friends. He is so cute! Thanks so much for all the fun ideas. Your program is great.




I watched this episode over my mother's shoulder yesterday and I thought the owl was sooo cute, I printed off the pattern and was inspired to make a little owl necklace and a birthday card using the same style!!!




Cute owl…can't wait for season 2.




So glad ya'll are back!! I LOVE the Owl pin cushion!!

Thanks for the fabulous episodes!!




Thank you for coming back for a 2nd season! My sister and I love to watch your craft project videos. Happy Fall

Marcy Durbin




love the owl, and the new format!
RSS feed for comments on this post. TrackBack URL
Leave a comment