Hello! If you are reading this blog post, you may have seen Kim on NBC/KSL's Studio 5 this morning! If you did not see it, youcan now view the video below. Kim did one of the projects from the newly released DVD: The DIY Dish Summer Crafts for Kids.

The TV segment focused on a special "Grandma Camp" that can be created by anyone who wants to share the joy of crafting, sewing, and creating with children. We are providing free Grandma Camp reproducibles shown on Studio 5.  "S'mores" invitations, a fishing tackle box with the tag "Gone Craftin' with Grandma" and even a paper bag memory book are all things that can make that time together even more memorable.
Download the free reproducibles for Grandma Camp here.
And if you'd like even more ideas for what you can do this Summer with your children or grandchildren, check out our new DVD.  Projects are geared for boys and girls, ages 3-12.  Variations of projects are also given for age and abilities.  Over 20 projects are included and cover themes such as the garden, patriotism, fun in the kitchen, and nature.
The retail price of this DVD is $24.95, but it is on sale now for $19.95.  Plus, from now until August 8, 2010, we are offering FREE U.S. SHIPPING of the DVD! To fill this summer with creative fun, click below to order your Summer Crafts for Kids DVD!*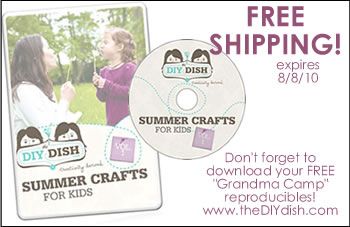 The button below will take you to an order form. From there you can purchase by credit card or through Paypal.
*Currently accepting orders from the United States, but hope to open it up to world-wide customers shortly.