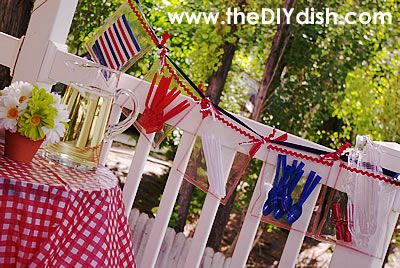 If you're having a big BBQ this weekend, or just love to entertain during the summer, here is an idea for a fun (and very functional!) kind of garland!
You can do this project for just a few dollars and less than an hour of your time. Gotta love that!
Think of possibilities here! We've placed napkins, plastic utensils, and even corn on the cob trays inside each pocket.  But we're sure you can think of even more ideas for this type of garland! We'd love to hear your ideas so leave a comment here on the blog if you've been struck with an ah-ha moment!
The following steps are to make one pocket.  We made 5 pockets for this garland, but make as many as you need!
Materials:  1/2 yard clear plastic vinyl (will make plenty of pockets!), ric-rack trim, double-fold bias tape, 1 sheet of computer paper, sewing machine, thread, and scissors; optional: ribbon for embellishing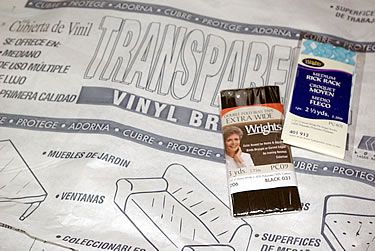 *Note: This is the kind of plastic vinyl that comes on a large roll (usually 54″ wide) and is often used to cover couches or made into a tablecloth. It can be purchased at just about any fabric/craft store.
Step 1: From clear plastic vinyl, cut a rectangle 7 x 16.5″.  Cut 8″ of ric-rack.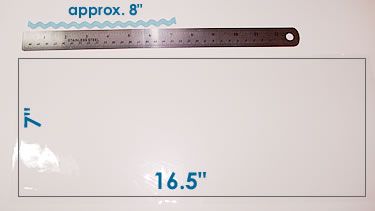 Step 2:  Place ric-rack along the top edge of the 7″ side of vinyl.  The ric-rack will be slightly longer than the vinyl. That is ok. We did that so it will fold over to the other side, making a nice, finished edge. (*Note: We have placed a gray line around the vinyl so that the photo is more clear. We'd also suggest using the same color thread across the ric-rack as the color of the ric-rack. We used 2 different colors for clarity in the photos.)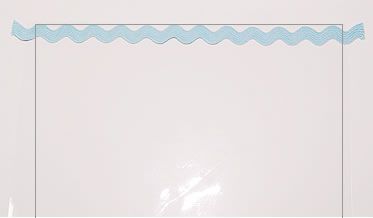 Step 3:  Take a piece of white computer paper and lay it down on the bed of the machine.  Then place plastic and ric-rack over the paper and sew a straight-stitch down the middle of the ric-rack.  The paper just helps the project move smoothly while you are trying to keep the ric-rack in position.  Be sure to back-stitch at the beginning and end.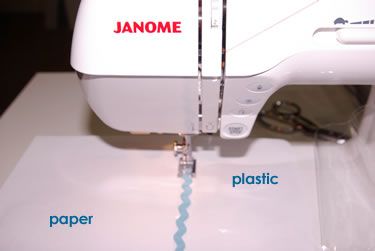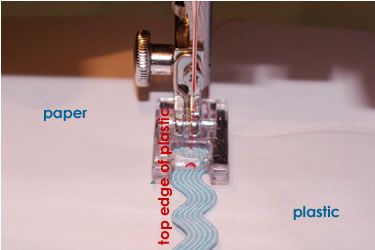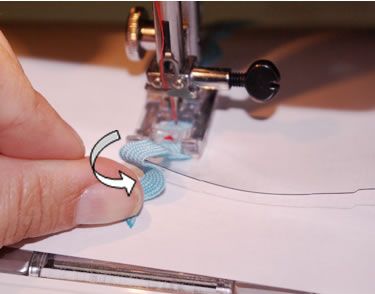 Step 4:  Carefully remove paper from the back of the vinyl. This will be easy to do since you made a straight stitch.
Step 5:  Bring the bottom of the plastic vinyl up towards the top.  Stop 1″ from the top and keep folded.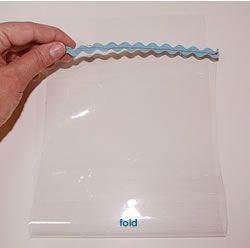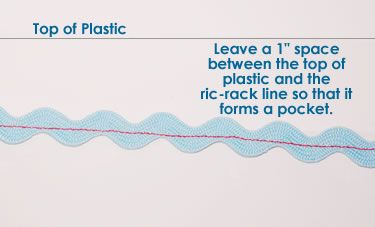 Step 6:  Finish the pocket by sewing 3 sides as indicated by the red arrows.  We used a zig-zag stich to complete the 3 sides. (*Note: We did not use the computer paper underneath while sewing because the paper will not tear away nicely when you have done a zig-zag stitch.)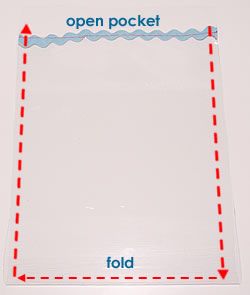 Step 7:  Once you have the number of pockets you'd like, lay them out on a table with about 2″ between each pocket.  Take your double-fold bias tape and place along the top of each pocket and pin.  Sew together and before you know it, you have a string of pockets ready to decorate your next bbq!  Embellish with extra ribbons and fill those pockets!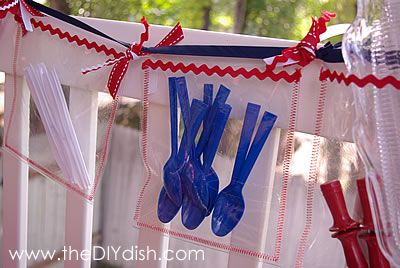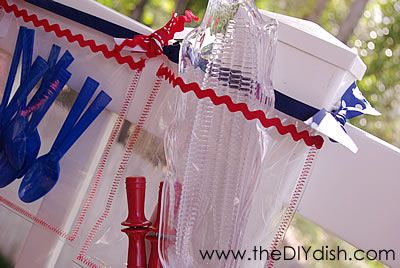 What ideas do you have for this garland? Make a comment below and let us know!
And if you'd like some super-fun, super-crafty, super-sewing activities to do with the kids this summer, check out our new DVD: Summer Crafts for Kids. Click here for more info.