The DIY Dish Summer Crafts for Kids is now available! If the summer break has hit your area, we hope you are enjoying some slower-paced days and events! This might also be the time of year that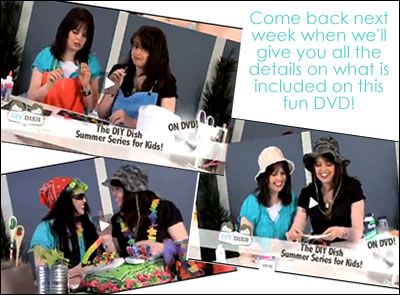 the children in your lives — your own, your grandchildren, nieces, nephews, or friends — are looking for something fun to do!
Watch our 1-minute video above on what you'll find on the The DIY Dish's 1st DVD now available.   All projects are designed for girls and boys, ages 3-12 (different version for different ages/skill levels are all included) and cover such areas like sewing and crafts. Themes include "Gone Campin'", "In the Garden", "Love Your Country", and "Cookies in the Kitchen."
Order your copy of the DVD here.
Come back to the blog on Wednesday for a new blog post! We're making some more monsters! 😉
We look forward to the Fall when we'll continue our regularly scheduled how-to videos. In the meantime, we hope you'll come back to our blog often this summer for quick how-to tutorials and fun.
-Kim & Kris