Summer weather is just about here and so the fun has already begun in getting our beach wear and gear all ready! And what a more perfect way to do that than by making a personalized hooded towel for the kids!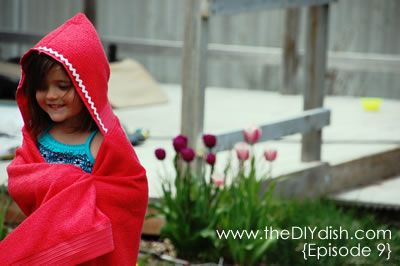 We'll show you how to make a hooded towel, from start to finish… and you'll love the ease of this sewing project. You literally can make one in just about 5 minutes! No kidding!
If you love machine embroidery, we will show you some tips and tricks for getting the best results when embroidering onto towels. If you do not own an embroidery machine, we know you'll still be anxious to personalize your towels with sweet ric rac trims, ribbons, and even hand applique!
Not only are these towels so cute for the summer, but they make the most darling gifts for baby showers and birthdays! Once you make one, we have the feeling you'll want to make many, many more!
And thanks to our wonderful sponsor this week, Embroidery.com, we are able to showcase the amazing line of Hemingworth products! Our personal favorite? THEIR THREAD! Whether you machine embroider, sew, quilt, or craft, the Hemingworth thread has so many advantages, you may never look at another spool again! We mention several of those advantages in our video, but if you're interested in learning more about the Hemingworth thread line, then you'll want to be sure to check out this link where you will find an even more detailed video outlining why Hemingworth thread is a "must-have" in your sewing room.
AND…speaking of thread, Embroidery.com and Hemingworth Products are giving away something we know you will ALL LOVE! One lucky viewer is going to win the Hemingworth Thread Caddy Drawer with 42 different spools of thread! And take a look at those colors – they're gorgeous and vibrant!  Who out there is hoping that this one becomes their own?
Here's how to enter for your chance to win!
Make a comment here on the blog. Easy!
Share the fun! Embed the video on your blog, twitter about it (@diydish), tell a friend…simply share the news! Let us know by making another comment below.
Head on over to Embroidery.com and see what they have to offer. Let us know something that interests you from their wide array products for those who not only love machine embroidery, but also knitting, cross-stitch, Hardanger, wool felting, punch needle, and MORE!
Here are some more photos of this week's projects!
Be sure to read our "2nd helping" where we answer many of your questions, including info on the mouse design and your tips and ideas that came from the blog.