Welcome to Episode 8 of "The DIY Dish!" You may have seen the picnic quilt when Kris demonstrated "frayed applique" on Studio 5. Well, this week we're going to show you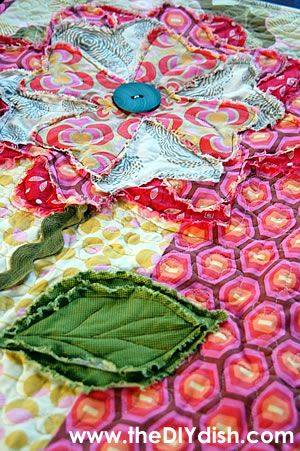 how to make it! Plus, we'll show you how to make coordinating placemats to go with that quilt, along with a "picnic basket" made from paper bags!  Wrap it all up and you have a nice set for your family this summer…or even to give as a gift!
Click on the video at the top of this post to learn how to make everything you see here!
We want to thank this week's sponsor, Fabric.com, for making it possible! You're going to find fantastic prices, as well as a HUGE selection of not only fabric, but also crafts, yarn, machines, and more. Be sure to click on their link located on the right side bar and see everything they have to offer.
They are also offering our viewers an exclusive coupon code for 15% off your purchase! Fantastic!  Use the code: diydish15 at checkout. Code expires 5/31/10 so hurry!
Here's a quick run-down of what's going on this week and how you can win a $100 gift certificate to Fabric.com!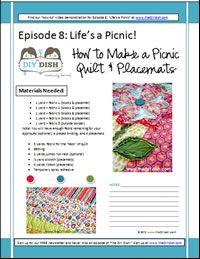 PDF download: Picnic Quilt & Placemats
PDF Download:  Frayed Applique Pattern on Picnic Quilt

Coupon Code! Exclusive "DIY DISH" viewer coupon code at Fabric.com: Save 15% by using code: diydish15  This coupon code expires 5/31/10.

Giveaway!  Win a $100 gift certificate to Fabric.com! (We can think of 100 ways to spend that!) This giveaway is open to people worldwide, 18 years and older. (void where prohibited) Winner will be announced on 5/31/10 episode.
Here's how to enter:
Make a comment here on the blog. Easy!
Share the fun! Embed the video on your blog, twitter about it (@diydish and @fabricdotcom), tell a friend…simply share the news! (While you're at it, let them know about the DIY Dish coupon code, too!) Let us know by making another comment below.
Head on over to Fabric.com and see what they have to offer. Sign up for their free newsletter and never miss a deal or knowing what is new! Let us know by making another comment on the blog.
Now, for some photos! We'll also post links to specific fabrics we used if you're interested!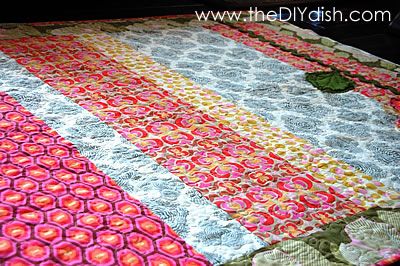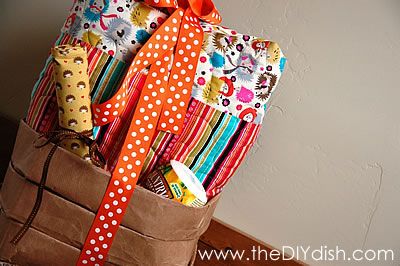 Find out how to make these placemats at approximately 7:25 in the video!
Click on the video found at the very top of this post to find out how!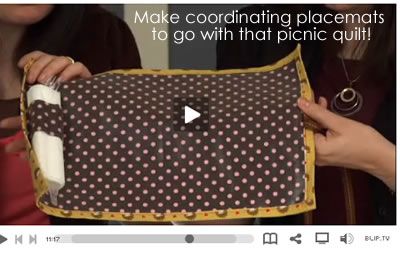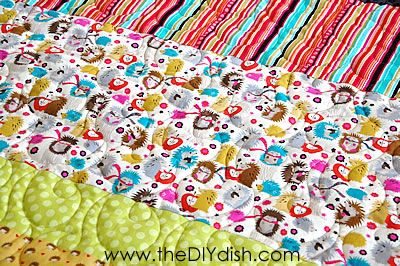 To make the quilt top, you'll need 5 yards of total fabric (1 yard of 5 different fabrics).  You'll also need 3 yards of fabric for the "backing".  If you are going to do the placemats, you'll need 1/2 yard of oil cloth.
Amy Butler fabric was found here:
Honeycomb Fuchsia
Garden Maze Tan
Optic Blossom Olive
Floating Buds Grey 
Martini Linen
Oil Cloth Solid White
Michael Miller Hedgehog and Ta Dots found here:
Hedgehog Meadow Cream
Hedgehog Pretty Stripe Multi
Hedgehog Heaven Gold
Ta Dot Ebony
Ta Dot Apple
Laminated Cotton Dumb Dots – Chocolate/Pink
Watch Episode 8 and find out who won the Cricut Cake!! Sweet!
Other winners of our most recent giveaways include:
Table Runner & Fresh Flowers from SWAKembroidery.com: Leigh Ann (mommaroa…)
$100 Gift Certificate to YouCanMakeThis.com: Megan B. (joshnmeg…)
Fabric Bundle from Material Girls: Alice P. (forgetfulali…)
$100 Gift Certificate to Hanes: Adrienne (kitschali…)
Sewing Green Book (4 winners): Dee (deeonaj…), Tom (tljorda…), Jennifer C. (njclar…), Sandra (trollsan…)
Hanes Earth Day T-shirts (3 winners): Judy (judyps…), Darlette (darlettec…), Sue D. (slrdow…)
Green Craft Magazine (10 winners): Lynda S. (murray25…), Louann B. (lmb2…), Susan S. (crobu…), Ruth B. (bittner…), Wanda C. (wanbc…), Kristy (akcsmi…), Christina R. (Crissy@fa…), Kandyce (mccrack…), Alex B. (kabutter…), and Bonny H. (bonnyhi…)
Congratulations! We'll be in touch with you shortly regarding your prizes!
Don't forget to enter to win a $100 gift certificate from this week's sponsor, Fabric.com!
We look forward to seeing what you make!
-Kim & Kris