Welcome everyone to Episode 7! Join us as we take on a mixed media project that is sure to bring a smile. We think you'll enjoy the process so much, you'll be making them for all the special people in your life…and perhaps even one for yourself!  In our 2-minute craft countdown, we will show three simple gift-wrap ideas for Mother's Day! 
Of course, this episode wouldn't be possible without this week's sponsor: The Creative Connection Event!  Watch our video to learn more, but let me just say — this 3-day conference is going to be spectacular! Whether you have a business, love the process of learning and creating, or even all of the above, you'll want to be there. There are so many hands-on classes being taught by industry experts — crafts, jewelry, crochet/knitting, sewing, quilting, painting, you name it!  It is September 16th, 17th, and 18th. Come for any or all of the days! Kris and I would love to see you there!
And as Nancy Soriano and Jo Packham, the creators of the event, have said, THE CREATIVE CONNECTION will bring together women who are passionate about being creative in their lives as artists, business owners, bloggers, and more! Come learn, network, market, and create!
Now, what are we making in Episode 7? Mixed media photo collages!  Don't let the project intimidate you — I learned how to do it while Kris was demonstrating, and it is so much FUN! Transferring your favorite photos onto canvas and then embellishing is something you will thoroughly enjoy. Take a look!
**Note: We've had good success with the decoupage medium called Liquitex "gloss medium.**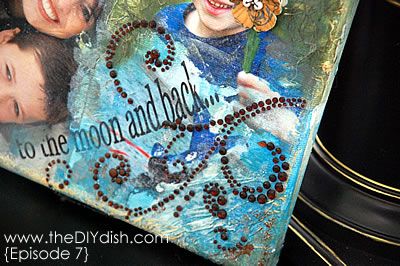 Yes, the ink from the photo has actually been transferred ONTO the CANVAS!! Wouldn't you love to find out how?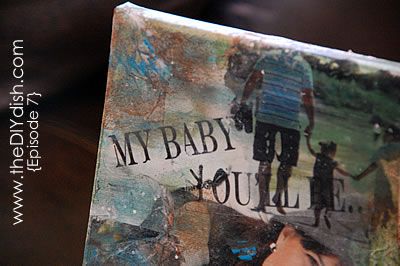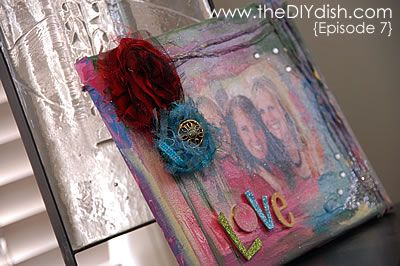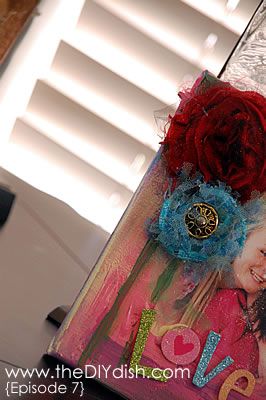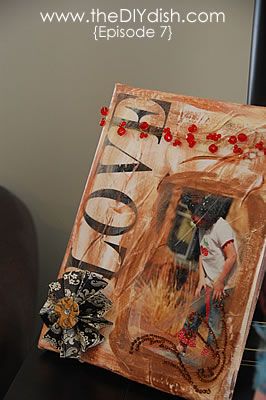 You will not believe how easy this really is! Jump right in and have fun with it! The possibilities are endless!
Here are the links to some flowers we've made in past episodes:
Felt & Organza Flowers: Guest spot on Studio5 Show
Fabric Roses: Episode 1's Two-Minute Craft Countdown
No-Sew Knot Flowers: Episode 5's Two-Minute Craft Countdown
==========================
Now, we all love a great give-away, right? You will not believe what we're giving away this week, thanks to the generous donations of those who will be a part of The Creative Connection Event!
There are 3 ways to enter (read below), and TWENTY-FIVE PEOPLE will win a prize(s)! Giveaway is open to US and Canadian residents, 18 years and older. (Void where prohibited.) Giveaway closes Friday, May 21st and winners will be announced Monday, May 24th. Look at this fantastic group of prizes that are waiting to be given away to 25 of our viewers!
Where Women Create is giving away 2, Where Women Create Books, as well as 4 issues of the Where Women Create Magazine.  They are also giving away a ProvoCraft Yudu Screen Printing machine, a French General Bracelet kit, a Studio D Sharp Inspiration paper kit, the Create, Inspire and Dream wall hanging by Lisa Kaus, a Birdsong wall hanging by Anna Corba, 3 journals with 8 inscribed pencils, and a Where Women Create Bookmark. Wow!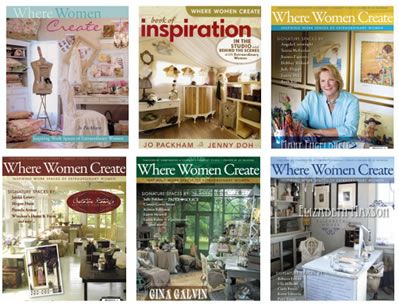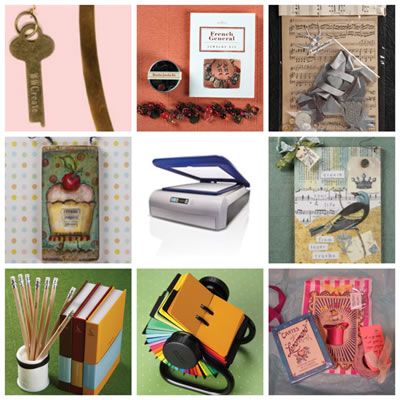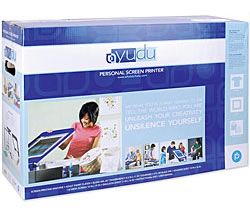 One of my favorite quilting artists, Camille Roskelley, is giving away 6 of her quilting patterns! Aren't they darling?!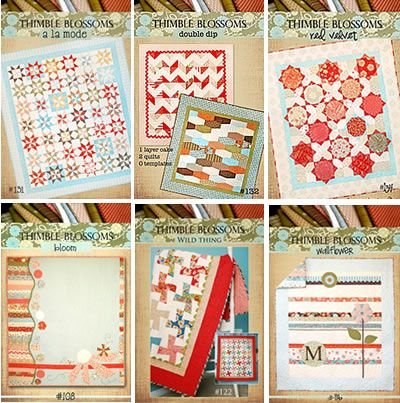 Your jaw might just drop like mine did when I saw that Halligan Norris was giving one of our viewers this gorgeous necklace!  
One of our favorite TV personalities, Cathie Filian, is giving away a package of her new glitter – all 7 beautiful colors! She has also released the book, 101 Snappy Fashions!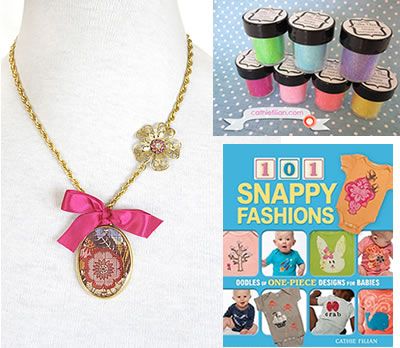 Lark Books, a sponsor of the event, is giving away two debut books in their Homemade Living Series by Ashley English: Keeping Chickens and Canning & Preserving — hot off the presses! Also, an advance copy of Vickie Howell's much-anticipated May release, Craft Corps. Sweet!
Michael Miller fabrics will also be a sponsor, so we're thrilled that the amazing fabric designer, Patty Young, will also be giving away 3 yards of her Flora & Fauna Fabric! Gorgeous!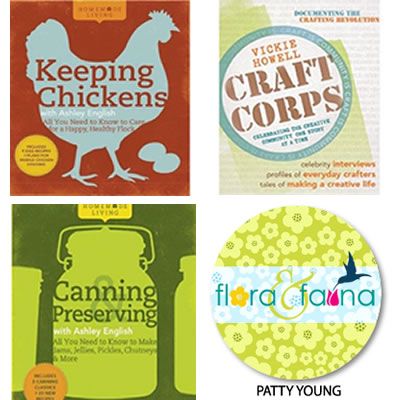 Dara Dimagno is giving away these 2 gorgeous necklaces: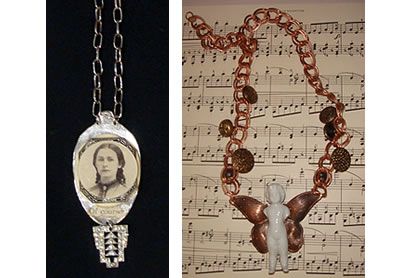 Founder and owner of Indygo Junction, Amy Barickman is giving away 3 of her most recent books and 14 of their newest patterns! (I think I hear the hum of my sewing machine calling my name!)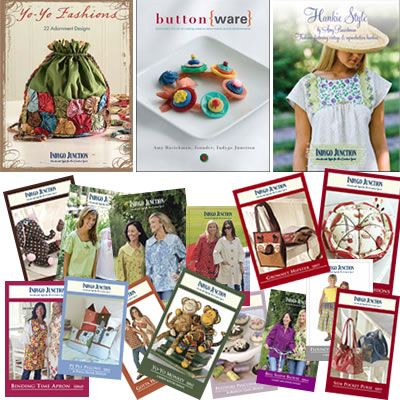 And take a look (or two!) at this toile linen and dupioni silk hanging sachet by Debbie Murray and Shea Fragoso. It is filled with lavender and buckwheat and needs to be in my house (oops, I mean in yours! REALLY!)  Kidding aside, this would be a gorgeous addition to any room.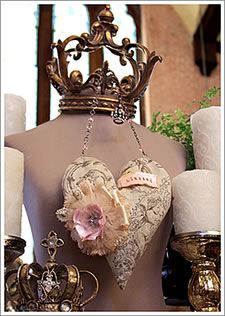 Take a look at these beautiful crocheted items! Want to make them? You can win the entire line of Crochet by Faye patterns! Thank you Robyn Chachula!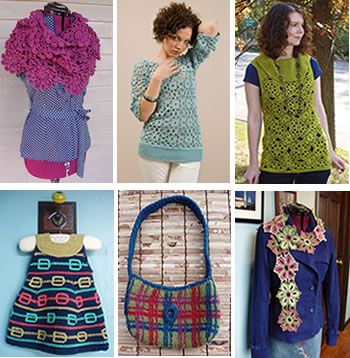 And finally, the lovely Serena Thompson from The Farm Chicks, is giving an all-season Farm Chicks papers gift pack, including 2 sets of everyday tags, everyday recipe cards, Valentine tags, Christmas tags, and Christmas recipe cards.
(I want to live Serena's life for a day – she is really that cool.)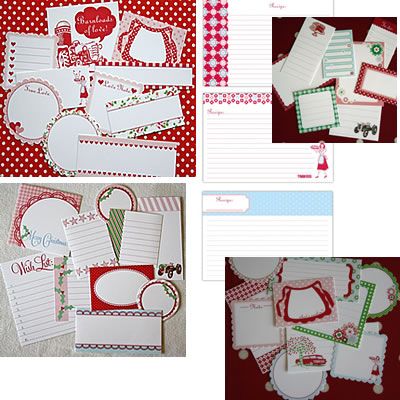 There are hundreds of dollars worth of prizes here! Exciting stuff!
Now, how can you enter to win? Complete any or all of the following and you're entered. It's that easy!
1.  Watch Episode 7 of "The DIY Dish" and leave us a comment here on the blog. Easy!
2. Click on The CREATIVE CONNECTION EVENT and take a look at the classes and panels that will be offered that weekend. Come back here to "The DIY Dish" and tell us in your comment which of the classes or panels interest you!
3.  Help us spread the word about "The DIY Dish" and "The Creative Connection Event!"  Twitter, blog, or even embed this video on your blog or site.  We hope your friends will love learning how to make the mixed media photo collages, as well as learning about this fantastic event in September!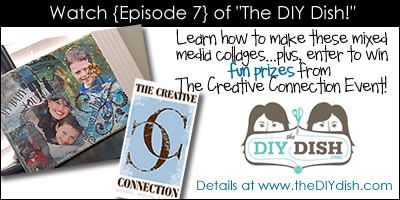 Thank you for joining us with Episode 7! Watch for our "2nd helping" post later on this week!
-Kim & Kris