Welcome to Episode 6!  As you can tell in the first screen shot, we are in a little different setting to open the show! Well, it's only fitting because this week's episode is all about repurposing items in a fun, crafty-kind of way! Join us as you learn how to make a sling purse from a wool sweater, as well as an easy craft that will
will get the kids involved! 
Today's episode is brought to you by American Express and TakePart's Members Project.
Members Project is philanthropic initiative that gives everyone a chance to "do-it-yourself" and help change the world for the better, one small step at a time.
American Express is donating $200,000 in funding to five charities every three months!
You can help by casting one small vote for big change. Vote for the change you want to see in the world .
Voting is open to everyone, and you can vote every week, so be sure to keep coming back to help. Some of the charities you can vote for include Habitat for Humanity International, American Cancer Society, Susan G. Komen for the Cure, The Nature Conservancy, and more. There are so many charities to choose from – be sure to view all of them and cast your vote!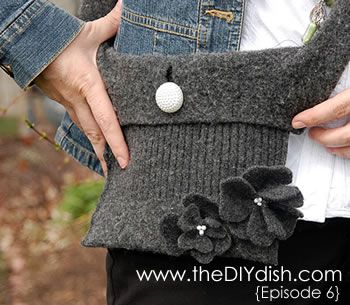 In Episode 6, we show how we took a wool sweater and turned it into a very sleek, sling purse! It's such an easy project and would be a great one not only for you to make, (tonight!) but even one to get the teens and tweens involved in! You're going to love how this all comes together as a one-piece purse — including the handles!
If you'd like to make the flowers you see on the purse, be sure to check out this blog post and video we did in February.
Here are a few more photos for inspiration! This was such a fun project to make, I made 3 in one night! It's a bit addicting!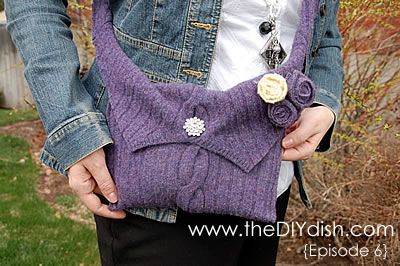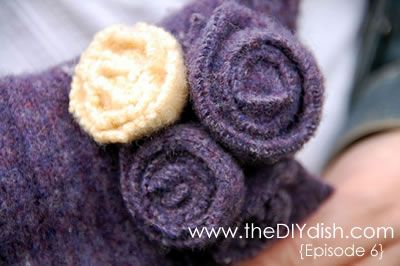 If your kids love to play in the dirt, capitalize on it! You'll love this week's 2-minute craft countdown!
Click here to download the accompanying PDF to Episode 6.  You'll receive the gift tag, as well as some additional photo steps of how that purse comes together.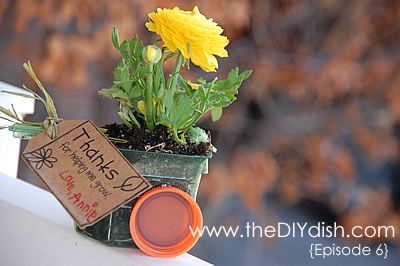 Are you ready for another fun week of giveaways!?! Details of each product are in the video, but take a look at what you could win! 18 people will win something this week!
– The Hanes Company is giving one of our viewers a $100 gift certificate to Hanes.com! Learn how Hanes is helping the environment, and share your own "green tips" at their new website, www.HanesGreen.com. Three more people will also win an "Earth" T-shirt!
– Four people will win Betz White's new book, Sewing Green: 25 Projects Made with Repurposed & Organic Materials. We absolutely love this book! Betz is a designer, author, and crafter who loves to take everyday items and repurpose them into some amazing projects! Be sure to watch our video above to find out more about Betz and this awesome book!
– Ten more people will win Volume 1 or 2 of Green Craft Magazine. If you love how-to projects delivered right to your mailbox each quarter, then you are going to really enjoy this magazine! It is filled with eco-friendly projects and ideas!
========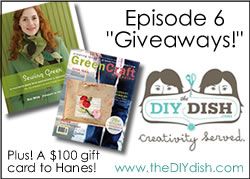 So here's how you can enter to win one of those fantastic prizes! Complete any or all of the following items and be sure to post here on the blog to let us know! It really is that easy!
#1 – Make a comment! All you have to do is watch Episode 6, leave a comment about it, and you're entered!
#2 –  Visit the American Express and Take Part's Member Project and view all of the charities you can vote for! Come back and let us know where you'd like to see the funds go to.  We hope you'll also find a bit of time to read, vote, and volunteer!
#3 – Share one way you are "goin' green!" Tell us on the blog so we'll be inspired to do the same!