Welcome to Episode 5! If you have a boring ol' lampshade that could use a little of the "WOW" factor,  be sure to check out this episode sponsored by www.YouCanMakeThis.com . We'll show you how to cover a lampshade with your favorite fabric! Plus, you'll learn how to make a no-sew fabric-knot flower in our 2 minute craft countdown! Simply click on the video found at the top of this post!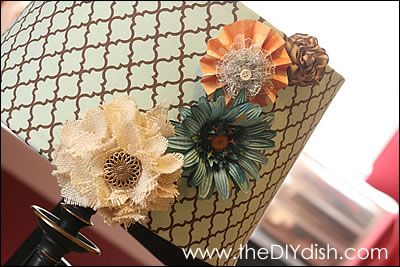 This episode was made possible by our sponsor, www.YouCanMakeThis.com. If you love to craft, sew, quilt, scrapbook, crochet, paint, knit, well…just about ANYTHING "DIY", then you'll love the downloadable patterns and how-to's at "YCMT".  They are all created by women who have an expertise in an area. And with the step-by-step photos to help, you'll feel like you have a friend sitting right next to you, showing you what to do next!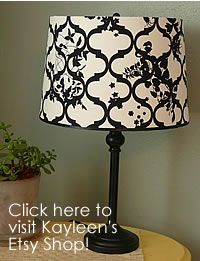 We have our first guest on the show, Kayleen, mother of three and owner of her own etsy shop, LuluBellsBoutique!  In addition to the video, Kayleen shares these tips when making your own lamp shade!
– The easiest type of shade to cover is a true "drum" shape. You can often find these at places such as IKEA or even Walmart.
– Think about how the color of your fabric will make the room look once the light is turned on. Sticking with a neutral tone will, more often than not, give off a nice light. Kayleen once used a grass green fabric that she thought would be beautiful, but said the room ended up looking like a swamp when the light was on! 😉
-Purchase your fabric after you have made your pattern. Find out how to make the pattern by watching the video above.
==============================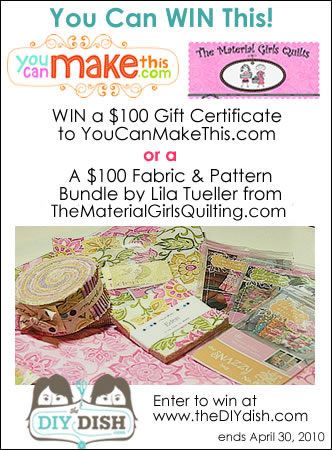 We have another fun giveaway this week! Two people will win, and two ways to enter!
Visit this week's episode sponsor, www.YouCanMakeThis.com, and then come back to "The DIY Dish" blog and let us know one of the patterns you found at YCMT that you'd like to make! You could win a $100 gift certificate to YCMT! 
Plus, if you LOVE fabric like we do, you'll love that our friends over at Material Girls Quilting is giving away a $100 fabric and pattern bundle! Do you love layer cakes, jelly rolls, and charm packs? How about 3 new patterns from Lila Tueller? Lila's fabric is just gorgeous – and this Eden line just makes me happy.
  You'll get all of that, including Lila's Eden fabric, in this $100 package. And all you have to do is watch this week's "The DIY Dish" episode and leave a comment below! Now how fun is that?
And as a side note, Nadine, the owner of Material Girl Quilts in South Jordan, Utah, is one of the nicest people around. Seriously. I have no doubt that anyone who goes into her shop, leaves feeling like they just met a new friend. She really is that fantastic.
So two chances to win — simply leave 2 comments as described above. This giveaway is open to a world-wide audience, 18 years or over. (Void where prohibited.) Giveaway closes April 30, 2010.
=========================
Would you like to know how we made the burlap flower you see on the lampshade? Come back this week where we will post our "2nd Helping" post. We'll show you how to make it and answer any questions you may write in your comments.