Join us in Episode 3 as we create a festive dinner table, perfect for your Spring or Easter gathering! We're fitting in all kinds of DIY projects in this episode, plus there's a new giveaway you won't want to miss out on! Today's episode features a
project for both those with embroidery machines, as well as for those who love papercrafting. It involves some of my favorite things — burlap, scrapbook paper, AND chocolate!
Thank you to our sponsor this week, www.SWAKembroidery.com, for making the episode possible.
To download your free accompanying PDF file with the paper birdie pattern and materials, click here.
To download your free machine embroidery file for the birdie, click here.
GIVEAWAY TIME!!
SWAKembroidery also wants to send you something special — FRESH flowers and a Spring Table Runner! Because there's nothing like having fresh flowers in your home, right?  To be entered to win, simply leave a comment here on the blog!  This giveaway is open to those 18 years and over. (Void where prohibited.) Giveaway ends April 30, 2010 and winner will be announced on the blog the first week of May.
Don't you just love that embroidery design found on the burlap tablerunner?  It is by Meringue Designs and is also found at SWAK!
Did you love the patterns featured in Designs in Machine Embroidery magazine? You can find the downloadable patterns for Carla C here. You'll also love her blog!  Be sure to check it out! How about the darling crocheted sailor hat? Find that pattern from Becky of Lullaby Lamb here.
Here are some more photos from the "Dinner Table"…
Come back later this week for our "2nd Helping" post! You'll find another tutorial on the fabric eggs! Plus, we'll reply to your feedback you leave in the comments.
And one last thing: If you have an embroidery machine, or are in the market to buy one, check out www.SWAKembroidery.com! They have an offer happening right now, just in time for your Summer embroidery projects! Your order of $20 or more will also get you a free bundle download of Summer Picnic designs as well as a "Number" set! It's a $25 value and will be sent to you separately from your order. Enjoy!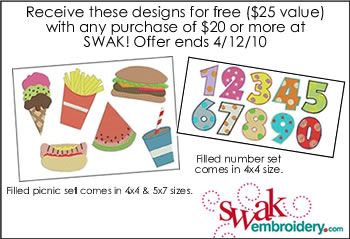 We want to hear from you! Leave a comment and you could win that sweet table runner, plus fresh flowers sent right to your door!