What is the surprise? Well, we've been "dishing out" some of the latest and greatest DIY projects in sewing, crafting, scrapbooking, home decor, kid projects, machine embroidery, hand embroidery, and more! Take a look!
It's a brand-new series of videos — it's free — and it's going to be a whole lot of fun! Join us!
To celebrate the launch of this new show, our friends at Janome are letting us give away TWO (yes, TWO!!) dream machines! Someone is going to win the Janome 350e EMBROIDERY machine and a second person is going to win the Janome DC4030 SEWING machine! Now how cool is that?!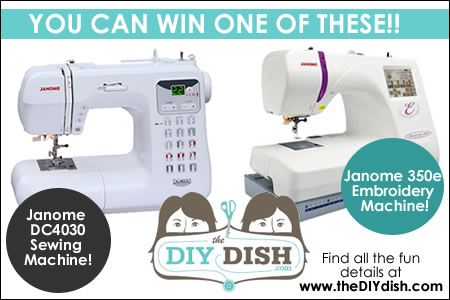 There are so many ways to win! Each item below will have your name placed into the drawing. Be sure to post here and let us know. Official rules are found here.
1. Sign up for our FREE newsletter! You'll never miss an episode! Plus, you'll be entered into more giveaways, receive coupon codes, and more.
2. Grab our blog button! Find the code on the right side bar and add it to your blog or other online presence. ———->
3. Make a comment below. We'd love to hear from you! And we'd love to know what kinds of things you'd like to learn on the show!
4.  "Tweet" about this giveaway and the new "The DIY Dish" show on Twitter.
5.  "Follow us" on Twitter.
6. Blog about the new show and the giveaway of TWO machines!
7. Embed the video above into your blog. (The embed link is found by clicking on the right corner of the video screen.)
*Note: Signing up for our free newsletter will automatically place your name into the drawing. Let us know about other ways you entered by making a comment below.
This is going to be fun – it's going to be interactive with YOU – and it's something we're thrilled to bring you this Spring!
The DIY Dish…